Beautiful and well-groomed hands are a positive attention from others and a guarantee of a good mood in a girl. After all, admit that you always pay attention to the girls' manicure in transport, at work, in the store. So you yourself should try to maintain a neat appearance of manicure.
Of course, your manicure can be fresh and neat. But even better if it is also a fashionable manicure. Therefore, we offer to get acquainted with the most fashionable options for manicure 2020. Here you will find both the most daring ideas and neutral calm options.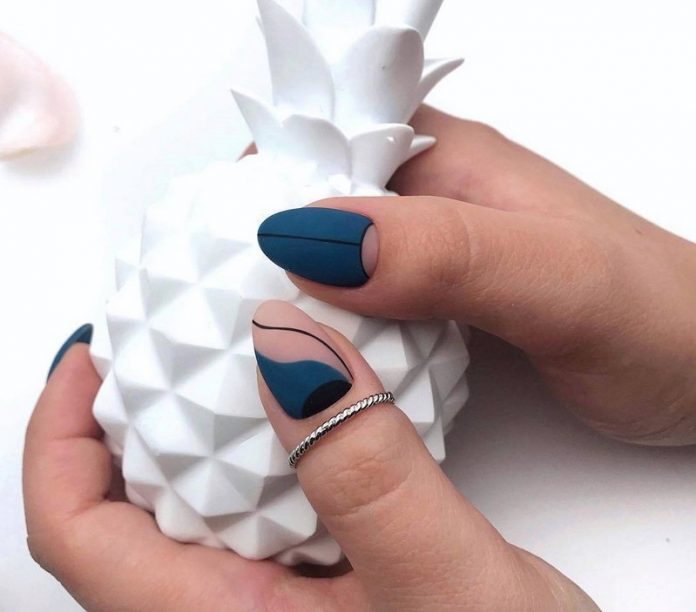 Trendy nail shapes 2020
Undoubtedly, each girl chooses her own form of nails. This may be the rule at work or school, comfort in the field of activity, or just a personal whim. And, of course, one of the reasons is fashion.
Fashion every new season dictates its own rules for the fashionable form of nails. So in 2020 several forms will be the most popular. In the winter and spring season, they suggest choosing shorter nails of a natural shape. This is our soft square, oval and round nails.
For the summer and autumn season, nails of medium length are better. But the forms will remain the same, but the most fashionable will be almond.
Trendy colors of manicure 2020
You can argue about the choice of color of manicure for an infinitely long time and choose for more than one minute. When you see a palette of shades, you want everything at once. And so it is very difficult to decide on one thing.
In order to facilitate the choice, we offer to make a choice in favor of fashionable manicure colors of this particular season.

For a trendy winter manicure, choose dark and saturated colors. Such as black, dark blue, dark purple, gray.
For spring manicure, more delicate and light shades are needed, such as turquoise, lilac, light purple, white.
As summer flowers, choose bright and rich colors: indigo, juicy greens, red, barbie pink.
And for autumn manicure it is of course the color in tone of yellowing foliage: gold, bronze, red, brown, red, burgundy.
Nude shades of manicure will be relevant throughout 2020, regardless of the time of year.
French manicure
Which manicure can be more recognizable and popular than French manicure. In addition, this is the most often selected manicure for a wedding, holiday events and just for everyday life.
For fashionable manicure 2020 minimalism is characteristic, which means that classic French manicure is perfect. But the usual French manicure can be varied in different colors. For example, make colored lines on the overgrown part or use bright colors instead of the nude base.
Reverse French manicure or moon manicure will also be a fashionable variety.

Another interesting option would be a French ombre manicure. The gentle transition from white to nude will look very noble.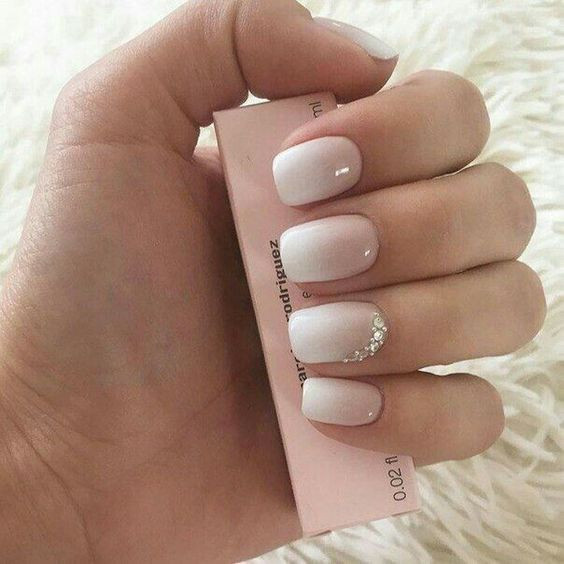 Sequins in manicure 2020
Confess the girls all love to shine? It may not always succeed in the literal sense of the word, but to make it so that the shine was on your manicure is easy!
A manicure with a glitter design looks very cute and beautiful. Sequins can be used in a variety of ways. It can be small dots or in the form of strips, they will also be interesting in the form of bee honeycombs. Glitter options and colors can be combined with each other for a more interesting design.
Sequins can cover the entire surface of one or two nails, make a stretch from the cuticle or the edge of the nail.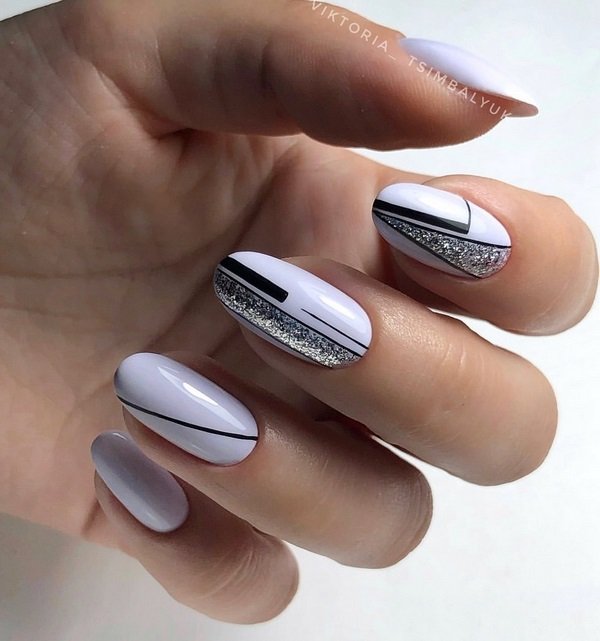 Manicure with monograms and lace.
How beautiful these smooth and luxurious bends of monograms are. And the elegance of lace is so fascinating. With such a manicure, your pens will definitely not be left without attention.
Monograms are best done not on all nails, but on several. Most often for monograms or lace use white, black, gold or silver color. But also voluminous monograms will be an interesting solution, for this you need to perform them with gel or sprinkle with colored powder.
Design monograms and lace can be drawn independently. But for a simple option, you can use stickers, stencils or stamping.
Manicure with monograms and lace goes well with French manicure.